As a property owner, am I responsible for people injured on my property?
In Illinois, owners of property are not automatically responsible for people injured on their premises.
The injured party must show that the owner was negligent; that is, he or she failed to meet his or her duty to keep the premises reasonably safe for third parties. For example, the owner may fail to keep flooring dry, to light an area where a victim cannot see the potential for injury, to maintain pavement that has buckled or gapped, etc.
Owners are not defenseless, however. They can argue that the defect is so small that they do not bear responsibility for someone's fall (de minimis). Conversely, they can argue that the danger is open and obvious and, as a result, they have no duty to warn as the injured party should have seen and understood the risk.
There are even exceptions to those defenses. The injured party can claim that they were distracted. For example, they were carrying groceries and did not see a glass door or curb. The injured party might also argue that even though he knew the danger existed, he had no option but to confront it because of work obligations or that he was confronted with an emergency situation with no other alternatives.
Injuries on property owned by a local government entity
As you can see, the matter can get a bit complicated. If the injury occurs on property owned by a local governmental entity, such as a park district or school,  other issues are introduced. The governmental entity will surely claim that it was involved in discretionary, rather than ministerial, activity and are, therefore, immune from liability for any injury pursuant to the terms of the Illinois Governmental Entity Tort Immunity Act.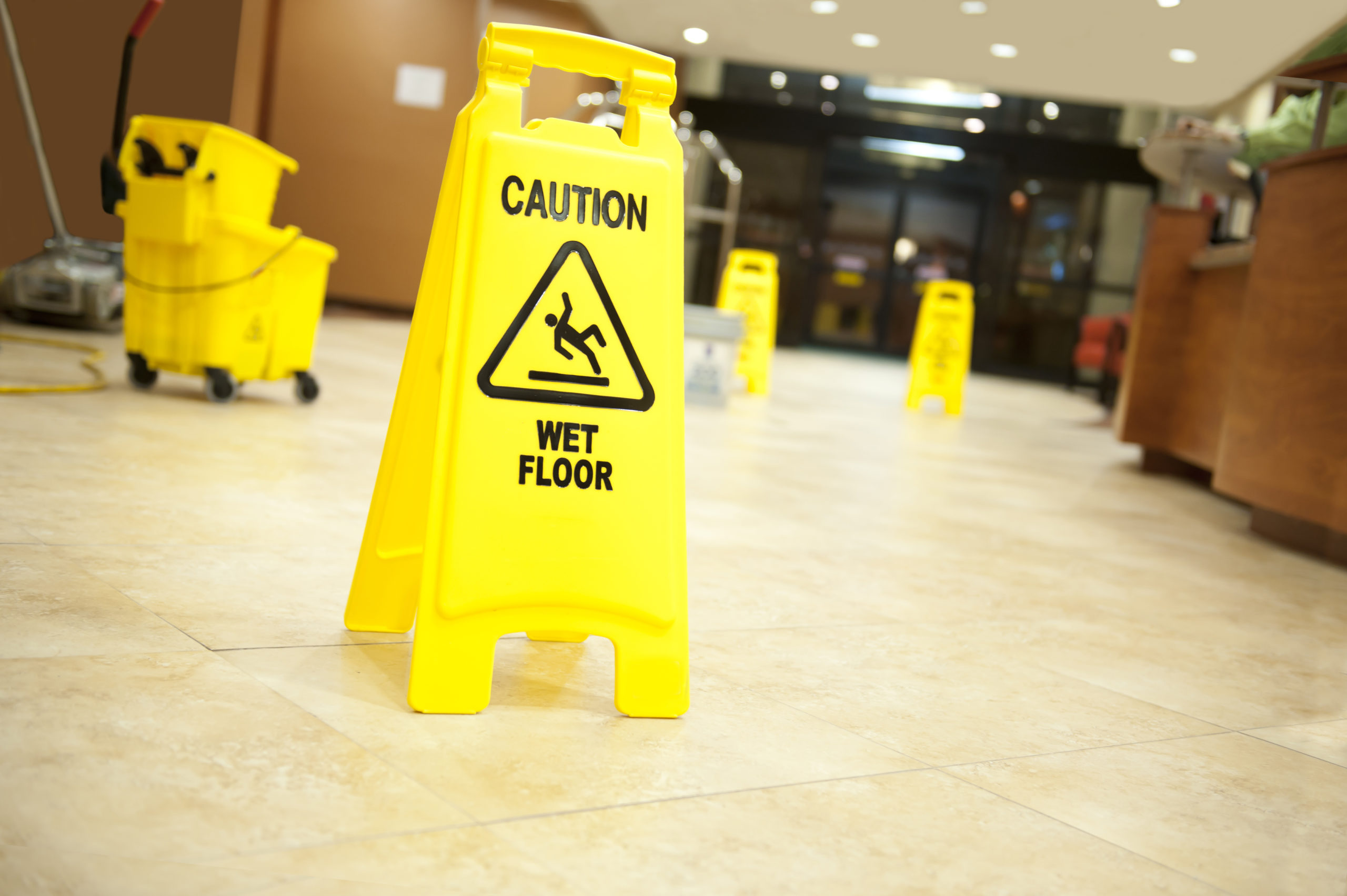 For example, Wolter, Beeman, Lynch, and Londrigan once represented a high school student who slipped and fell on a wet ramp while assisting at a
dinner for local school superintendents at her high school.
The water was the result of the maintenance crew mopping up spilled iced tea. We claimed that the school district created a hazard by leaving the water on the ramp and by not providing a warning of the slick condition. One of the district's responses was that they had complete immunity because the decision to mop up the spilled liquid was made by the school superintendent and fell under the definition of a discretionary act.
     Here is our reply to that claim:
DISCRETIONARY v. MINISTERIAL
     Illinois courts have long recognized that
the distinction between discretionary and ministerial functions resist precise
formulation and that the determination whether an act is one or the other must
be made on a case-by-case basis. Snyder v. Curran Township, 167 Ill.2d
466, 657 N.E.2d 988, 212 Ill.Dec. 643 (1995); Johnston v. City of East
Moline, 405 Ill. 460, 91 N.E.2d 401 (1950).
     There are numerous reasons why the acts of
Defendant in this case are ministerial, not discretionary. First, Illinois
courts have also long recognized that maintenance or repairs, as opposed to
improvements, are ministerial in nature. As stated by the First District
Appellate Court in Hanley v. City of Chicago, 343 Ill.App.3d 49, 795
N.E.2d 808, 277 Ill.Dec. 140 (2003):
"Pursuant to section 3-102(a) of the Tort Immunity Act, defendant 'has the duty to
exercise ordinary care to maintain its property in a reasonably safe
condition.' 745 ILCS 10/3-102(a) (West 1998). To maintain property is to keep
it 'in a state of repair [or] efficiency and is considered a ministerial act
while to improve property falls under the discretionary decision of the government
entity. Morrisey, 334 Ill.App.3d at 256, 267 Ill.Dec. 587, 777 N.E.2d at
394, quoting Anderson, 317 Ill.App.3d at 1112, 251 Ill.Dec. 533, 740
N.E.2d at 826, quoting Webster's Third New International Dictionary,
1392 (1993).' A repair is generally considered a ministerial act for which a
defendant may be liable if negligently performed."
In this case, Defendant cannot claim that it was in the act of improving property when
Plaintiff was injured. It was trying to maintain property by mopping up spilled
iced tea. Allowing water to remain on a slanted, tile runway without warning is
negligently performing a ministerial act and, therefore, no immunity applies.
     Second, even if the decision to mop up the spilled iced tea was discretionary, the act of removing the liquid was
ministerial. Robinson v. Washington Township, 2012 IL App.(3d) 110177,
976 N.E.2d 610, 364 Ill.Dec. 332; Gutstein v. City of Evanston, 402
Ill.App.3d 610, 929 N.E.2d 680, 341 Ill.Dec. 26 (2010). Our Supreme Court has
specifically stated that "A municipal corporation acts judicially or exercises
discretion when it selects and adopts a plan in the making of public
improvements, but as soon as it begins to carry out that plan it acts
ministerially and is bound to see that the work is done in a reasonably safe
and skillful manner." Green v. City of Chicago, 73 Ill.2d 100, 108, 22
Ill.Dec. 507, 382 N.E.2d 1205, 1209 (1978), quoting Johnston v. City of East
Moline, 405 Ill. 460, 466, 91 N.E.2d 401, 404 (1950). In the case before
this Court, Plaintiff has alleged that Defendant did not perform the work in
question in a reasonably safe and skillful manner. (See also Plaintiff's
Affidavit attached hereto as Exhibit A.) Defendant is not immune from liability
for the performance of this ministerial task.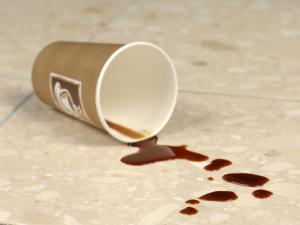 Third, a defendant claiming immunity pursuant to the Tort Immunity Act must prove its employee held either a position involving the determination of policy or a position involving the exercise of discretion and, in addition, must establish that the act or omission giving rise to the injuries was both a determination of policy and an exercise of discretion. 745 ILCS 10/2-201; Monson v. City of Danville, 2018 IL 122486, 115 N.E.3d 81, 425 Ill.Dec. 526. A policy determination for purposes of absolute immunity pursuant to the Tort Immunity Act is one where the public employee balances competing interests and makes a judgment call as to what solution will best serve those interests. In re Estate of Stewart, 2016 Ill.App.2d 151117, 60 N.E.3d 896, 406 Ill.Dec. 345; Hascall v. Williams, 2013 Ill.App. (4th) 121131, 996 N.E.2d 1168, 375 Ill.Dec. 112. Is the Defendant in this case actually taking the position that when confronted with spilled iced tea on a sloped ramp that it was confronted with competing interests which required the exercise of judgment? It has presented no evidence indicating that it assessed multiple factors in deciding to mop up the liquid. Monson v. City of Danville, 2018 IL 122486, 115 N.E.3d 81, 425 Ill.Dec. 526. As there were no competing interests and no exercise of judgment required, the discretionary immunity does not apply.
     Fourth, a "discretionary act" for the
purposes of public employee immunity under Illinois law is one which is unique
to a particular public office. Doe v. Bd. of Educ. of Comm. Unit School
Dist. #5, 680 Fed.Supp.2d 957 (2010). The decision to mop up the spilled
iced tea could have been made by anyone at the dinner in question, not just the
superintendent for Nokomis Community Unit School District No. 22. Plaintiff
assumes that maintenance personnel in attendance will testify that they had the
obligation to mop up the spilled liquid without having to wait for direction.
     Finally, as Defendant admits, it had the
written obligation to keep district buildings and grounds adequately maintained
in order to provide a safe environment. That directive does not involve
judgments based on competing interests. Pursuant to that written directive,
there was no choice but to mop up the spilled liquid. As a result,
discretionary immunity simply does not apply. (In re Estate of Stewart,
2016 IL App.2d 151117, 60 N.E.3d 896, 406 Ill.Dec. 345; Hascall v. Williams,
2013 Ill.App. (4th) 121131, 996 N.E.2d 1168, 375 Ill.Dec. 112.)
     In contrast, the cases cited by Defendant supporting their claim that the
discretionary act immunity applies do not involve physical maintenance
requiring safe and skillful work or written directives regarding safety, but do
involve the determination of policy or exercise of discretion by an employee
uniquely situated to do so. They also involve the balancing of various
interests which competed for time and resources while planning and conducting
public activities. In Harinek v. 161 North Clark Street, Ltd. Partnership,
181 Ill.2d 335, 692 N.E.2d 1177, 230 Ill.Dec. 11 (1998) the city fire marshall,
while in the process of planning and executing a fire drill at plaintiff's
place of employment, exercised his discretion in determining how, when, and
where to hold drills. He bore the sole and final responsibility for the program.
He considered multiple issues when determining how the drill could best be
conducted efficiently and safely. In our case no such judgment based on
competing interests was conducted or necessary.
     Similarly, in Harris v. Hardin County Comm. Unit School Dist. #1, 197 Ill.2d 466,
758 N.E.2d 848, 259 Ill.Dec. 440 (2001) a high school principal made a policy
decision when he refused a student's request for early dismissal because of
inclement weather and instead told him to wait for the entire school to be
dismissed early. The court noted that the principal:
"had to consider the circumstances surrounding
Joshua's request, including the weather and road conditions, Joshua's safety,
and the lack of permission from Joshua's parents or guardian. Brumley then had
to balance the competing interests of Joshua's desire to leave early before the
weather worsened with that of the school's interest in an orderly dismissal,
along with the possibility that if one student was dismissed early then, in the
future, every student would want to leave early. Brumley then had to make a
judgment as to how best to perform his duties as principal and find a solution
that best served all of these interests."
Again, our case does not involve a public employee in a unique position to determine policy or competing interests requiring assessment before a judgment in made. As is the case in Harinek, Harris does not involve property maintenance or written policies regarding safe premises. Neither case supports the Defendant's position that it was engaged in discretionary activity.     
Liability issues are complex. Ask for help.
As you can see, the laws attempt to be fair to all parties results a number of rules and exceptions to those rules. Because the liability issues are so complex, you may want to contact an attorney for advice. He or she will, no doubt, also be able to help you with identifying and evaluating your damages. 
Contact us at Wolter, Beeman, Lynch, & Londrigan for a free consultation about your case.